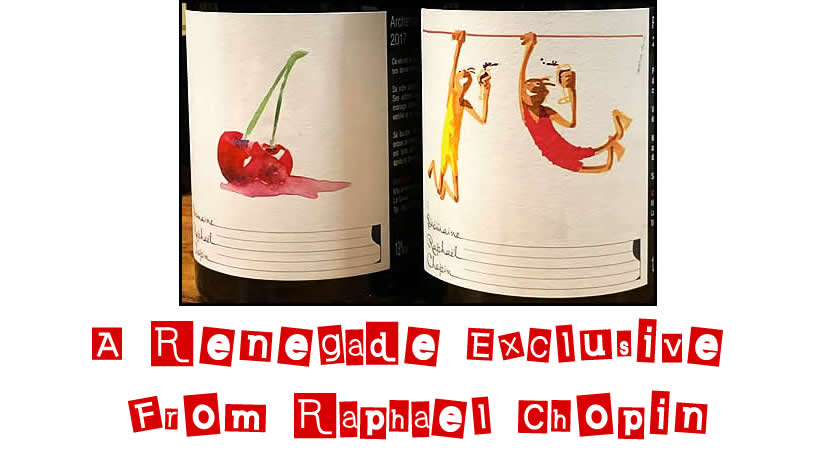 -
This story begins in Beaujolais on a cool February afternoon almost exactly two years ago. We arrived at the home/winery of Raphael Chopin after a long drive filled with mini jet lag naps. Introductions all around before we sat down at the kitchen table to taste wines from a producer we had never met before. This would be our first time sampling his wines as at this point in time they were extremely rare in the States.
Bottles were brought to the table, glasses appeared out of nowhere, and soon we were experiencing a line-up of very remarkable Gamays. We learned that Raphael had inherited his grandfathers 100 year old vineyards and was creating a series of very natural wines. The first few sips went by and lips parted in very big smiles. Raphael knew what we were thinking and replied," See, you can make natural wines taste great!" And great they were.
-
Fast forward to the year 2020. We introduced scores of friends and patrons to the wines of Raphael Chopin. So enthusiastic were they (you) that we had a difficult time keep these brilliant wines from Beaujolais in stock.
Compliments poured in month after month. So much so that when we were compiling our Top 21 Wines of 2020 the vote was unanimous: Raphael Chopin was our NUMBER ONE WINE of the year.
-
And now to present day: We special ordered two of our favorite wines from our visit. As with all things in 2021 it took a bit of time to get here but now that they've arrived we are very excited to share!
In our notes from the winery visit we loved this quote:
-
"You cannot have more fun with Beaujolais than this!"
-
The Wines:
-
2019 Domaine Raphael Chopin Beaujolais 'Funambule' (France, Burgundy, Beaujolais) $24
Funambule translate as tightrope walker as in:
A person who walks or performs on a rope stretched between two points at some height above the ground; a tightrope walker; a funambulist. That's what Raphael's family thought of him when he decided not to sell the grapes but make natural wine. Good for him!
-
Thoughts on the wine:
-
Bright, silky cherry notes, with a lush mid palate and a firm finish. This was our first sip after just being opened. Later in the evening notes of a gentle forest breeze emerged, more raspberry and rhubarb, and a beautiful spice emerged on the finish. Truly engaging. Don't be afraid to decant this for a while. The next time we open up a bottle it's Duck Confit for the entire table.
-
2017 Domaine Raphael Chopin Morgon 'Archambault' (France, Burgundy, Beaujolais, Morgon) $36
We are still not sure what Archambault means. A Google search brings up Chaucer's bookstore (among other listings).
It also seems to refer to an original family name/crest so we've sent a email to Raphael for clarification.
-
As for the wine:
-
Aromas of eucalyptus and dark brambly fruit on the nose. Already this can be seen as the more serious of the two. First thoughts seconds after the wine was poured: it's a youngling. A bit later this wine really began showing its complexity and depth. It has more of everything but camouflaged, waiting for the decanter (3-4 hours) or the cellar (3-5 years). Even after an hour in the glass there are tannins (subtle) that need time to resolve but the potential in this wine is insane.
-
We love the description of this wine on his website:
A wine full of envy, and ecstasy,
-
These wines are for true Bojo lovers. They show the care and craftsmanship that can emerge when a wine maker pours their heart into their craft. We cannot wait to go back and visit this estate.