Every January we sit down and read through our tasting notes from the year before with the goal of creating a Top 21 list. Last year was oddly and strangely different. After March 15 sales reps no longer stopped by with their 6, 8, 10 bottles (sometimes 16 thank you Justin!) for us to sample and instead began dropping off 4 ounce glass containers filled with various wines.
The bonus to this new routine which made itself apparent fairly quickly was this:
We could take the wine home, sit down leisurely with pad and paper and pen notes in a relaxing fashion. The end results were more verbage per bottle and a more intimate introduction to the wines.
-
After completing our review of 2020 and after much consideration we arrived at these 21 wines. All worthy components of our 2020 Top 21.
-
Read and enjoy. Most of the wines are available at Renegade so if anything sparks your fancy you can email or give us a call.
-
Here's to a fantastic 2021.
-

2017 Boyer-Martenot Meursault Cuvée Fernand Boyer (France, Burgundy, Côte de Beaune, Meursault) $80
Vincent Boyer is an anomaly—a hard-working, hands-in-the soil grower focused on quality in an appellation where many wineries have hired enologists and coasted on Meursault's reputation.
Domaine Boyer-Martenot is a family winery where the wine in the bottle unquestionably lives up to its noble appellation. This is a special bottling of Chardonnay from four villages-level vineyards, as a tribute to Vincent's grandfather and the founder of the family estate, Fernand Boyer.
A very elegant wine with a fresh aromas of hazelnut, white peach, acacia blossom and citrus zest.  The wine offers  a beguiling sense of tension that is heightened by citrus-tinged acidity on the finish. This is flat-out delicious.


2019 Domaine du Bel Air (Pierre et Rodolphe Gauthier) Bourgueil "Jour de Soif" (France, Loire Valley, Touraine, Bourgueil) $18
We asked our sales rep for a new wine, something lighter, fresh and juicy for under $20 and boy did he deliver. "Jour de Soif" (Thirsty Day) from Pierre Gauthier is really a beautiful bottle of Bourgueil designed to be very, very easy to drink out of the blocks, and the 2019 most assuredly is just that! The pure and vibrant nose jumps right out of the glass in a blend of black cherries, sweet dark berries, a touch of dark chocolate, gentle notes of cigar smoke and an impressively complex base of earth tones. On the palate the wine is full-bodied, pure and sappy at the core, with a fine signature of soil, just a whisper of tannin and a long, complex and bouncy finish. This is wonderful Cabernet Franc.

2018 J.L. Chave Sélection Crozes-Hermitage Silene (France, Rhône, Northern Rhône, Crozes-Hermitage) $30
"The Chave line… could make a fair claim to be France's winemaking royal family: in no other of France's great terroirs is the largest individual landholder so deeply rooted in time and place, so supremely competent, and so modest a custodian of insights and craftsmanship of the past."
Andrew Jeffords, The New France
-
Wine growers in the northern Rhône since 1481, the Chave family represents 16 generations of unbroken lineage committed to the production of some of the finest Syrah on the planet. We selected this wine for its charm and demeanor.  A Ripe and friendly Syrah balanced with backbone and structure. Notes of plum, black pepper, pencil lead, and warming spices surround the palate. The finish is remarkably long. Perfect with heartier comfort foods such as cassoulet or braised beef short ribs.

2019 Cos Frappato (Italy, Sicily) $28
COS is a benchmark producer in the Vittoria appellation of Sicily, and certainly one of the most important, influential producers in all of Sicily, if not Italy as a whole. Throughout the entire range there is a focus on elegance and purity, especially the joyous, floral Frappato, Sicily's answer to Cru Beaujolais. The 2019 COS Frappato is a pure delight. Light ruby colored, aromas of wild flowers, red berry and herbal spices. Flavors of raspberry, orange peel and sweet spices emerge with subtle acidity and soft tannins. There is beautiful freshness and vibrancy in every sip.


2019 Domaine Jean Vullien Jacquere (France, Savoie, Vin de Savoie) $14.50
Domaine Jean Vullien is run by Jean and his two sons, David and Olivier, in the Combe de Savoie for over 40 years.  This beautifully crisp and mineral white from the native grape Jacquere is grown on dark Jurassic limestone and black marl base with pebbly topsoil layer of scree. It has all the beauty of an alpine lake surrounded by freshly fallen snow. There's nothing out of place here.


2018 Domaine de Colette Regnie  Vieilles Vignes (France, Burgundy, Beaujolais) $16.95
Another wow! We've carried nearly all the wines that Domaine de Colette produces. They always drink above their price point and this Gamay from Regnie in Beaujolais is no exception. From 70+ year old vines this drinks with style. Black cherry, red currants, silky tannins and completely satisfying! And the price? There's no excuse. Grab a few bottles and prepare to be impressed.


2018 Ka Mancinè Dolceacqua Beragna (Italy, Liguria, Dolceacqua) $32
This tiny DOC may be hugging the French border, but everything about this wine speaks Italian! Coming from their vineyard "Beragna" these vines are impressively old - planted in 1872. The fruit dances between cherry and wild strawberry, with hints of white pepper and herbs. Though it's still a relatively light red, it has enough substance to leap the fence into wanting some meat versus just fish. A common meat dish of the area happens to be roast Rabbit, and this wine would pair perfectly! It could also go with chicken, game birds, or a pork tenderloin, but it can also play into a very vegetable-forward meal as well! Enjoy with a slight chill.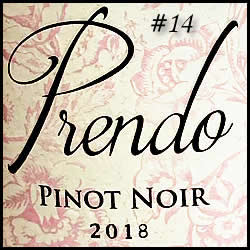 2018 Wilhelm Walch Pinot Noir Prendo (Italy, Trentino-Alto Adige, Vigneti delle Dolomiti IGT) $20
We are continually amazed by this Pinot Noir. It's a sip shy of brilliance for $20. We've enjoyed this with all types of cuisine: egg rolls, duck confit, many different kinds of cheese, roasted chicken, lamb, more duck and of course all by itself. This is a velvety, medium-weight, elegant wine with beautiful red and dark berry notes along with precious minerality and a groovy finish. Bravo!


2017 Sokol Blosser Pinot Noir Dundee Hills (Oregon, Willamette Valley, Dundee Hills) $48
We came across this wine because once again, Daniel, dropped it off for us to try. The last time we experienced a Sokol Blosser Pinot Noir we were in Vancouver at a Jean-Georges Vongerichten restaurant in the Shangri-La hotel. That was eight years ago. We were blown away then and we were blown away again a few months ago. We enjoyed the wine over three days and it just kept getting better. This wine has beautiful power and finesse with a seductive edge and a youthful spring.


2018 Auvigue Pouilly-Fuisse Solutre (France, Burgundy, Maconnais, Pouilly-Fuisse) $42
This one has a story. A bottle was dropped off for us to explore (once again from Daniel, Thank You very much). We opened it after closing on a Thursday and tasted. It was really good wine. We new that instantly. Back in the fridge for a taste again on Friday. Still, really good Chardonnay. Everything was in place. It intrigued us. Saturday was busy so we forgot to sample, and being closed Sunday, it wasn't until Monday afternoon that we discovered this bottle, 1/3 full, in the fridge. What the hay. Four days later…let's give it a shot. It was fantastic. We were spell-bound.


2018 Lou Dumont Chambolle-Musigny (France, Burgundy, Cote de Nuits) $92
Lou  Dumont,  located  in  Gevrey  Chambertin,  was  established  in  2000  by  Japanese sommelier and oenologist Koji Nakada and his wife Jae Hwa Park and in 2012 they purchased their first parcels of land in Burgundy: no small feat for a non-native Burgundian. One of our favorite importers, David Shiverick, encouraged us to explore these wines and what a treat it has been. We selected this wine for the list for its brilliant charm and silkiness, it's purity of fruit, and the fact that nothing is out of step in this juice. If you plan to enjoy this wine soon please decant for a good 4-5 hours. It's worth planning ahead for.


Share this email
Manage your preferences | Opt out using TrueRemove®
Got this as a forward? Sign up to receive our future emails.
View this email online.
This email was sent to [% member:email %].
Continue receiving our emails, add us to your address book.