-
New wines are beginning to pour in at Renegade.
Below are a few from the first wave.
Enjoy!
-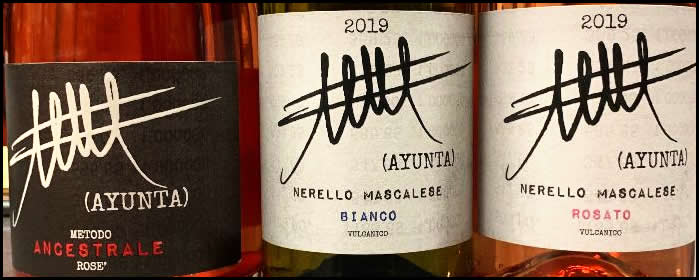 -
Discovering a new winery is like making a new friend, or to be more accurate, a family of friends. That's how we feel about the winery Ayunta in Sicily.
-
Filippo Ayunta and his family farm 2.8 hectares of very old vines on the northeastern slopes of Mt. Etna. The weather extremes in these high-elevation (700 meters) locations are well known and can involve long droughts punctuated by hail and everything in between. These volcanic soils nourish indigenous varietals that were co-planted over the last centuries and are part of an intriguing genetic patrimony that is unique to this location. The reds are mostly Nerello Mascalese and Nerello Cappuccio and the whites mostly Carricante and Catarratto, however there are many other lesser know varietals mixed in. No chemicals are used in the vineyards and all of the work is done by hand. Weeding is done by bringing in the sheep of a local shepard! This is truly artisanal winegrowing. The barrels used are large and made of chestnut, cherry, and oak woods and the wines are aged long enough for non-filtered bottling. Only native yeasts are used in the wine-making and minimal sulfur levels are respected.
-
These are the three wines pictured:
-
Ayunta Metodo Ancestrale Sparkling Rosato $26
Metodo Ancestrale is the original probably the oldest way of making sparkling wine. In this case, the alcoholic fermentation begins in tank after the juice is bled off the dark skins, imparting a bright electric rose color to the wine. Midway through the fermentation, the wine is bottled and stops naturally when the CO2 level reaches a level where the yeast can no longer live and reproduce. This technique can often lead to a fine layer of sediment in the bottom of the bottle which is perfectly natural and actually nourishes the finished wine.
-
This refreshing beauty possesses a bright pink hue showing notes of bright and bitter fruit such as blood orange, pomegranate and grapefruit. Balanced with intriguing yeasty notes for roundness, it finishes crisp and fresh. 4500 bottles produced.
-
2019 Ayunta Nerello Mascalese Bianco $26
From an early harvest of the red grape Nerello Mascalese, a very unusual white wine is produced. This isn't something new and hip (although it is a bit hip) but rather a long standing tradition that local aristocratic families employed to create a base for a champenois sparkling wines.
-
After a gentle pressing of the grapes, the juice is fermented in stainless then aged six months in cement on the lees.
Light in alcohol, super fresh and minerally with notes of flint, graphite, grapefruit, red berry, a touch of salinity (that volcanic soil), and a finish with almost an umami flavor. Stunning! 6000 bottles produced.
2019 Ayunta Nerello Mascalese Rosato $26
Nerello Mascalese is a perfect grape to make rose wine. This is harvested a little later than the grapes sourced for the white wine above. The color comes from the weight of the grapes in the press machine.
High acidity, saltyness, red-orange fruit notes, exotic in texture and its finish. Pairs with spicy food wonderfully well.
This is one bad-ass Rose!
-
If you'd like a bottle of each we'll round down to the very fair price of $68 for the 3-pack
-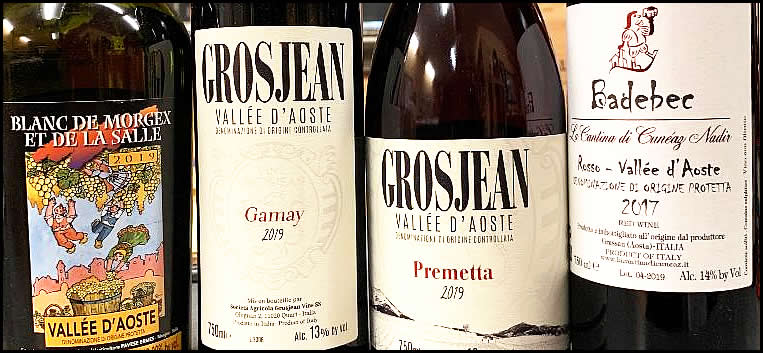 We've tasted such great wines from Valee d'Aosta lately that we thought to share a few of our favorites.
-
A quick refresher course first:
Valle d'Aosta is a region in northwest Italy bordered by France and Switzerland. Lying in the Western Alps, it's known for the iconic, snow-capped peaks the Matterhorn, Mont Blanc, Monte Rosa and Gran Paradiso.
The appellation is the highest in Italy and its smallest. Vineyards are planted up to 4000 feet with many native varietals found only in this region of Italy.
-
And now the wines:
-
2019 Ermes Pavese Blanc de Morgex et de la Salle $38
We begin with Valle d'Aosta's oldest known varietal: Prie Blanc, first documented back in 1691. The Blanc de Morgex et La Salle appellation in Valle d'Aosta is the source of one of Italy's finest light-bodied white wines.
This is a stunning wine from the highest vineyard site in Europe, with annual production of about 1000 cases. It's racy, minerally with pear, white apple, and subtle citrus notes. A nervy wine that's vibrating with beguiling character.
-
2019 Grosjean Gamay $24
The Grosjean family traces its roots back to the village of Fornet in the high mountain passes of the Valle d'Aosta known as Valgrisenche where they raised cattle. During the summer months, the family cultivated grapes and chestnuts on the slopes at lower altitude, stocking up on wine to supply themselves over the long winters. In 1969, Dauphin Grosjean, the father of the five sons that now collaborate to produce the wines of this estate, was encouraged to present his wine at the local "wine expo". The exceptional quality of his work was recognized and the entire family became engaged in the expansion of the vineyards and in the production of wine.
-
This is a stunning Alpine Gamay from high slopes of the Val d'Aosta. The quality of a cru Beaujolias yet of a totally different provenance. Grosjean has been farming organically since the 1970s, and this Cuvee is certified biodynamic.
Brilliant ruby red color, with a delicately intense red-fruit bouquet. Fresh and delicate yet engaging and savory. This would be fun to taste blind against a Cru Beaujolais from Morgon.
-
2019 Grosjean Premetta $28
A super-rare grape, Premetta, grown at the foot of the alps. In fact there are only two wineries producing this varietal in all of Italy. Another of Grosjean's biodynamic bottlings with the vineyard source at over 2500 feet in elevation (800m).
This is a red wine that looks like a rose. Light in color but brilliant nonetheless. A wine that is delicately intense, complex, smooth, with beautiful freshness. Lovely paired with charcuterie, cheese (especially from the area; The Cheese Shop in Santa Barbara usually has a cheese from Vallee d'Aosta and it's perfect with this wine), simple gnocchi dishes, and as an aperitif.
-
2017 La Cantina di Cuneaz 'Badebec' $32
Let's begin with the wines designation: "Badabec". The name comes from the mythical monster that is said to roam the forests above Gressan and occasionally feast on misbehaving children in the village!
As for the wine itself, it is composed of 90% Petit Rouge with small amounts of Fumin and Vien de Nus, more grapes native to the area. The wine hints at the passito element, with rich, ripe fruit, dried cherry, anise, earth with nice acidity and mellow tannins. This is a wine that could come from nowhere else in the world.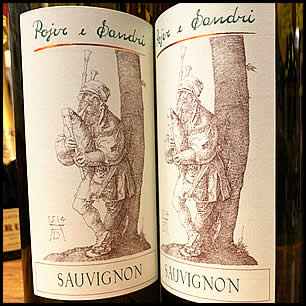 2018 Pojer e Sandri Sauvignon Vigneti delle Dolomiti IGT (Italy, Trentino-Alto Adige) $25
We've been waiting for this Sauvignon Blanc for almost a year. When it looked like this new vintage was not going to be imported in 2021 we special ordered a bunch. It's that good. Right now our Realtor friend is doing a happy dance. So are we. Stop on in for a bottle or two.
-
Call or email 805.568.1961 to reserve yours and we'll have it ready ASAP for curbside pickup
or in store pick up (or even delivery if you like)
-


Thank you for your support.
Renegade Wines
417 Santa Barbara Street Suite A-6
Santa Barbara, CA 93101
805-568-1961
www.renegadewines.com