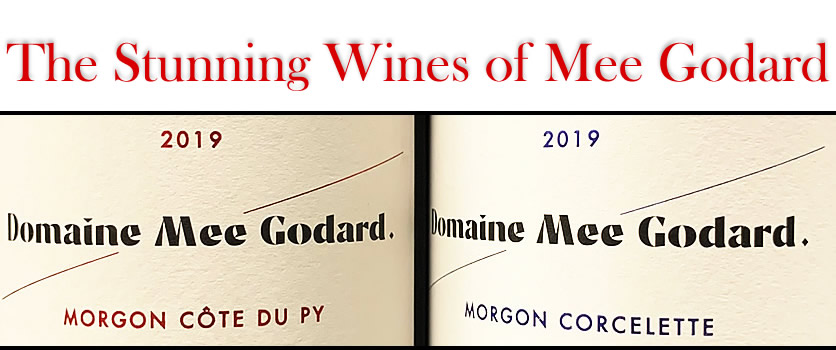 A new rising star shines on Morgon, one of the finest Beaujolais Crus. Inspired by the natural wine movement in the region, the winemaker Mee Godard produces sensuous, complex and deep wines, the result of meticulous labor in the vines as much as in the cellar.
-
Mee is a one woman show that prunes, farms, and runs a precise cellar. She is poised to be a big part of our perception of Morgon as the identity of Beaujolais continues to evolve with a new generation.
-
Propelled by her passion and her surroundings, she bought some old vines from a winemaker who was about to retire. The plants were ideally situated in Morgon: Grand Cras, Corcelette, Cote du Py. Could she have dreamt of a better start?
-
Work in the vineyards is organic so it goes without saying that the Beaujolais wine movement of Jean-Paul Thevenet, Jean Foillard and Marcel Lapierre greatly inspired her.
-
Typical winemaking in her cellar involves partial destemming (around a third), and then long three week maceration in concrete tanks before going to large format barrels and foudres for ageing. The result is powerful yet balanced wines that are impressive and will age well.
-
We have received two of her wines from the very special 2019 vintage and are excited to share them with you.
Enjoy!
-
2019 Domaine Mee Godard Morgon Cote du Py
(France, Burgundy, Beaujolais, Morgon)
$45
Crazy red berry fruit with elegance and structure. Savory mid-palate with raspberry, wild strawberry, red currant, goji berry too and a myriad of exotic spices. The mineral-driven finale shows excellent tenacity. This is a wine that brings its sense of place to your glass.
-
2019 Domaine Mee Godard Morgon Corcelette
(France, Burgundy, Beaujolais, Morgon)
$38
What a vivid wine. Black cherry, boysenberry, red currants dominate the aromatic nose. The palate confirms the nose with additional vivacity. Cacao nibs, forest floor, white pepper, Mediterranean herbs slowly emerge along with a beautiful floral acidity. The finish keeps building, evolving until the thunder fades and you make a note that this may be one of your new favorite reds.
-
These are deep and thoughtful wines. We would not have come across this Domaine if it was not for a long-time Burgundy enthusiast who just returned from the region and shared his story of Mee.
You know who you are and we cannot thank you enough.
-
Mee's wines are at Renegade ready to be shared and enjoyed.
Tasting these side by side was revolutionary and we encourage you to do so.
Here's more encouragement: Buy one of each for only $72
We are confident you'll be back for more.