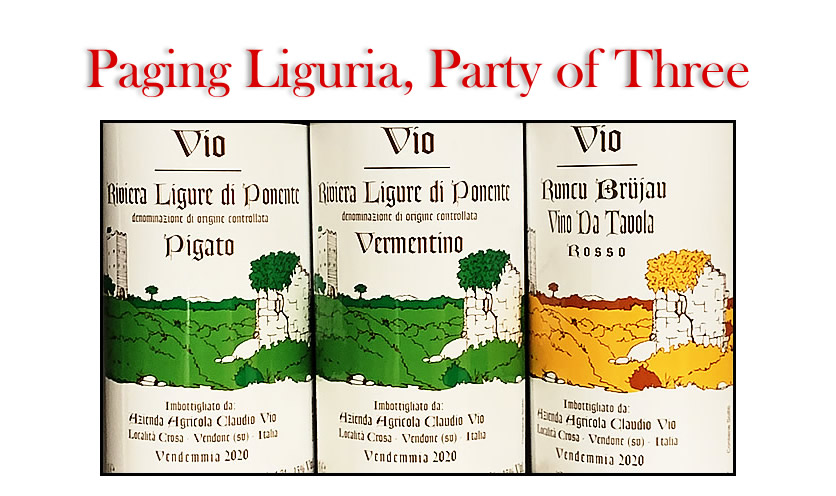 These three superb wines were tasted over two days with increasingly glowing tasting notes. We were floored by the Pigato, charmed with their Vermentino, and awe-struck by the Burgundy-like red blend.
There is very little wine produced at the winery, and even fewer cases in the states (14 cases of each were imported). Upon finishing our tasting we ordered the remaining cases from the importer.
-
And now for the wines. Enjoy!
-
Liguria, the crescent-shaped strip of a region that arcs from Tuscany to France and separates Piemonte from the Mediterranean Ocean, is a mountainous land of beautiful but often rugged beaches, spectacular seafood and vegetables, and yes, wine. Most visitors get their first glimpse of Liguria by speeding along the A10 autostrada, ducking into and out of tunnels carved into the steep, coastal mountains perched just above the sparkling sea below. As you drive from Genoa towards France in Liguria Ponente (western Liguria, or the Liguria of the Setting Sun), you see vineyards on your left, below the autostrada. But if you take the exit at the coastal town of Albenga and head uphill instead of down to the sea, you wind your way steeply up into an utterly different world from the seaside resorts and vines.
-
It's here, in the tiny village of Vendone, 12 kilometers inland and 300 meters above the sea, that Ettore and Natalina Vio planted vines and olive trees amidst the mountain scrub in the 1970s. Their son Claudio and his wife, Maria Grazia, now tend the family farm. A dispersed patchwork of tiny, terraced vineyard plots adding up to just two hectares — mostly Pigato, with a little Vermentino and of course a smattering of red varietals. We are thrilled to share these wines with you.
-
2020 Claudio Vio Pigato
(Italy, Liguria, Riviera Ligure di Ponente)
$30
There's a dazzling array of greatness in this wine. Its luminosity is bright with a plethora of flavors. We begin with salty, wintergreen, lemon verbena and ethereal timeless purity then graduate to notes of caviar lime, Persian cucumber (no kidding!), sorrel and Sichuan peppercorn, stinging nettle, and an overall abundance of Spring.
A mind-blowing wine that's extraordinary. Pairs well with ceviche, fried calamari, whitefish.
-
2020 Claudio Vio Vermentino
(Italy, Liguria, Riviera Ligure di Ponente)
$30
While Pigato and Vermentino are essentially fraternal twins, Joe Campanale from NYC's Alta Linea uses a good dog metaphor to explain:
"You know how some golden retrievers have almost white fur—and others have fur that's sort of red?" he says. "That's how it is with Vermentino and Pigato; they're the same grape, except Pigato has freckles."
-
These two wines couldn't be more different though, and they were a joy to taste side by side. The Vermentino is waxier, with more texture and a little more herbaceous with sage and rosemary. There's bright citrus notes alongside cucumber rind, almond skin notes, and a savory mid-palate. The finish is awesomely long.
This will pair perfectly with Roasted Lemony Fish With Brown Butter, Capers and Nori (NY Times Recipe).
-
2020 Claudio Vio Rosso
(Italy, Liguria, Riviera Ligure di Ponente)
$32
Cork out and wow what a Burgundian nose but with more sass and verve. There's a forest floor quality and bright heirloom berries, red and dark, wrapped in a crystalline purity. Transparent and savory. Near the end of the bottle more layers of cranberry, raspberry, black currant, black cherry emerged.
A fascinating wine indeed!
As for the blend: 40% Rossese, 30% Ormeasco, 30% Granaccia.