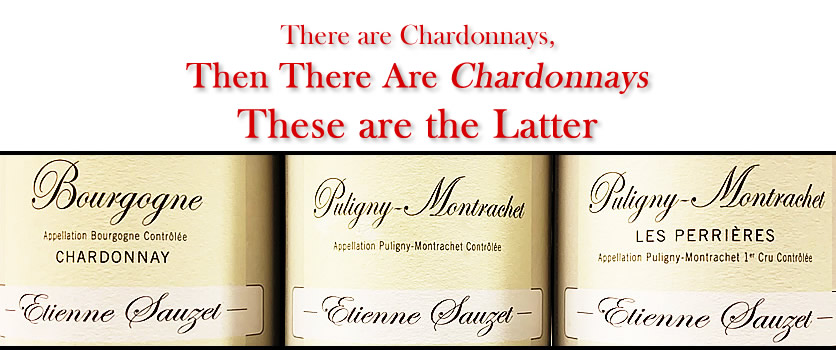 Chardonnay runs the gambit from big, over-oaked beasts to steely wines that leave you wanting a glass of water.
These wines from Etienne Sauzet are neither. Rather they are world class wines sought after by collectors and Burgundy lovers alike.
-
The history of this Domaine dates to the beginning of the 20th century, when Etienne Sauzet inherited and bought several plots of vines in the village of Puligny-Montrachet. The vines passed through the family to Jeanine Boillot, Sauzet's granddaughter. Jeanine and her husband, Gerard Boudot, managed the Domaine, making many modernizations including improved vinification techniques and biodynamic farming. Today the Domaine has been passed to their daughter Emilie and her husband, Benoit Riffault, who continue to produce white wines that are among the most sought-after in all of Burgundy.
-
The 2019 vintage is a winemakers dream vintage. This does not mean it was an easy one -there were many hurdles to get through- but the end results were nothing short of perfection.
-
As for the wines:
-
2019 Etienne Sauzet Bourgogne Blanc
(France, Burgundy, Bourgogne Blanc)
$44
The 2019 Bourgogne Blanc comes from three parcels in the Puligny appellation with a splash from Meursault.
Aromas of pear, toasted nuts and white flowers tease the senses while the wonderful acidity and bright pear, apple and floral nuances gather steam on the palate. The finish develops intensity and a formidable presence. This is definitely one of the superior Bourgogne Blancs.
-
2019 Etienne Sauzet Puligny-Montrachet
(France, Burgundy, Cote de Beaune, Puligny-Montrachet)
$98
The vibrancy in this wine is exciting and the detailed and concentrated flavors -white peach, orange oil, spring blossom and freshly baked bread- leave you wondering how this elevated kind of magic could exist in a bottle.
-
2019 Etienne Sauzet Puligny-Montrachet 1er Cru Les Perrieres
(France, Burgundy, Cote de Beaune, Puligny-Montrachet 1er Cru)
$168
Minerality and a sophisticated texture is the driving force in this wine right now. After an hour notes of crisp orchard fruit, toasted nuts, orange pith and mandarin emerged. There's a sneaky long finish here that will pull you back for another sip. Tremendous effort here.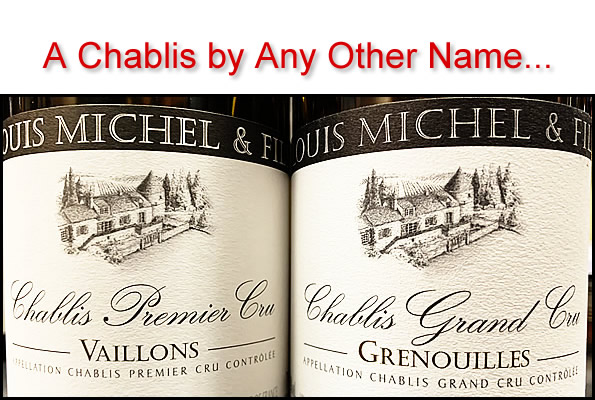 Domaine Louis Michel has one guiding principle: in a terroir as rich and unique as Chablis, the wines are made in the vineyard. The Michel family has been making wines in the heart of Chablis since the 19th century and has continued to pass down a sense of excellence from generation to generation.
We have two of their new releases available. One from the incomparable Premier Cru vineyard Vaillons and the other from the legendary Grand Cru vineyard Grenouilles.
Two more Chardonnays that defy an ordinary explanation.
-
2019 Domaine Louis Michel Chablis 1er Cru Vaillons
(France, Burgundy, Chablis, Chablis 1er Cru)
$44
A cool, airy and pure nose features notes of white flowers along with hints of quinine, citrus zest and pepper. The sleek, saline and attractively textured and vibrant flavors are refined and precise. A wine with beautiful concentration with racy acids and a penetrating, saline finish. On point!
-
2019 Domaine Louis Michel Chablis Grand Cru Grenouilles
(France, Burgundy, Chablis, Chablis Grand Cru)
$106
Grenouilles is the smallest Climat in the Chablis Grand Cru appellation so wine from here is hard to come by. This wine juggles brilliantly between strength and finesse, wrapped in a delicate minerality.
Honey, white flowers, green apple and citrus blossom were our first impressions followed by a textural, seamless and intense follow through. This wine is rising fast in our all time top 20 Chablis.