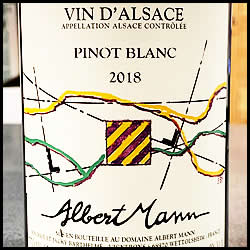 2018 Albert Mann Pinot Blanc $24.50
We look forward to this wine every year and the 2018 vintage does not disappoint.
Biodynamic. 100% Pinot Blanc. Lemon, pear, white peach, and floral notes on the understated bouquet. Extraordinarily complex for a lighter, easy-drinking wine, with layered flavors of stone fruit, honey, chalk, and spice. Fresh, clean, and dry on the finish. An excellent value.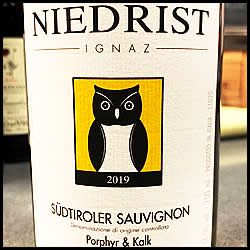 2019 Ignaz Niedrist Terlaner Sauvignon (Italy, Trentino-Alto Adige) $40
One of our favorite white wines from Italy. A gorgeous Sauvignon, very expressive and brilliantly made.
Aromas of gooseberry, and apricot, and perhaps a touch of the exotic. Great texture, perfectly balanced with refreshing acidity + a very long finish. Great with seafood or as a beginning to a beautiful evening.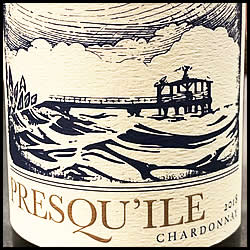 2018 Presqu'ile Chardonnay (Santa Barbara County) $20
Who says there's no great value wines on the Central Coast?
The 2018 SBC Chardonnay is produced with a hands-off mentality. The wine is citrus-driven and bright, marked by supple notes of yellow stone fruit, green apple, and wet rocks. New World Chard at its finest!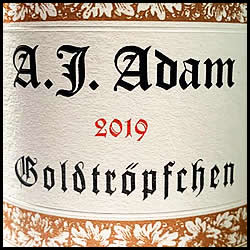 2019 A.J. Adam Piesporter Goldtröpfchen Riesling trocken (Germany, Mosel Saar Ruwer) $84
Right in the heart of the impressive Piesporter Goldtöpfchen vineyard location, there are 5 steep terraces with Riesling vines still true to their roots. The almost hundred-year-old ungrafted Riesling vines provide the basis for this baroque-looking dry Riesling. Already in the nose the wine offers a compact and dense smoky minerality underlaid with fine aromas of peach, pineapple and apricot. On the palate it is juicy and opulent with lots of extract and a beautiful play of tart fruit. The ripe acidity is concentrated and precisely set. In the long finish an almost salty minerality with an intense herbal, finely spicy aftertaste. A masterpiece!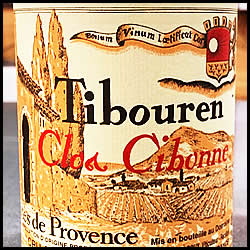 2019 Clos Cibonne Tibouren Cotes de Provence Cru Classe Rose (France, Provence) $32.50
A spectacular new vintage has finally arrived from everyone's favorite Rose producer in Provence.
But first a quote from their homepage:
"The modern era at Clos Cibonne property began in 1793..."
-
As for the wine: at this stage it is leaner than 2018 but with more structure and aging potential (we know, who ages Rose!).
Delicate aromas of spices and yellow fruits, followed by exotic ones as the wine opens up. There's a beautiful minerality with dashing elegance, and a whisper of peach on the finish.
If you were ever going to decant a Rose this Spring, decant this one.
Smiles Guaranteed!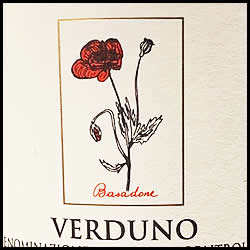 2019 Castello di Verduno Verduno Pelaverga Basadone (Italy, Piedmont, Alba, Verduno Pelaverga) $32
We love this producer (think great, classic Barolos & Barbarescos) but we may love this wine, made from the Pelaverga grape even more.
-
A lighter, savory red with a seductive edge. Bright ruby red, with an intensely fragrant nose, showing clear spicy overtones of black pepper and nutmeg, as well as fruity sensations reminiscent of cherries and strawberries.
-
Basadone also means "a little kiss" and local tradition has it that Pelaverga is an aphrodisiac!
Say no more.