The wines from Jean Louis Chave need no introduction. Wine growers in the northern Rhone since 1481, the Chave family represents 16 generations of unbroken lineage committed to the production of some of the finest Syrah, Marsanne, and Roussanne on the planet.
We are excited to share the new vintages from this iconic producer.
-
And now for the wines: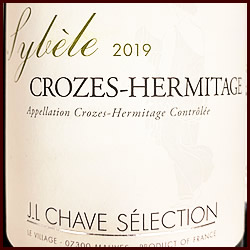 2019 J.L. Chave Selection Crozes-Hermitage Blanc Sybele
(France, Northern Rhone, Crozes-Hermitage)
$32
A blend of 60% Marsanne, 40% Roussane, this mineral-driven wine offers aromas of pear, nectar, tangerine, and yellow plum, plus a subtle touch of jasmine and eucalyptus. Juicy and tightly focused in the mouth, offering intense citrus and orchard fruit flavors.
Pair this with grilled chicken, crab cakes, or if you're a cheese lover: Manchego, Zamarano, Gouda, or Brie will do the trick.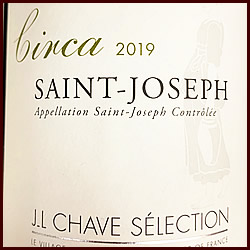 2019 J.L. Chave Selection St. Joseph Blanc Circa
(France, Northern Rhone, St. Joseph)
$38
This time we have a blend of 60% Roussane and 40% Marsanne.
We begin with lovely almond and acacia flower aromas then wonderfully-textured white stone fruit on the mid-palate with a long, elegant finish. One of our favorite Northern Rhone white wines.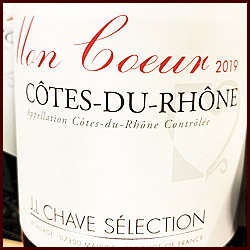 2019 J.L. Chave Selection Cotes du Rhone Mon Coeur
(France, Southern Rhone)
$24
Erin Cannon-Chave and Jean-Louis Chave's semi-negociant operation (Selection) is producing a range of consistently excellent wines that clearly show the Chave magic at user-friendly prices.
Their Mon Coeur leads the way. This wine delivers outstanding value and consistently high quality year after year.
This 2019 vintage is again 50% Syrah and 50% Grenache.
Aromas of cherry, dark berries and licorice combine with succulent floral and herbal nuances. Smooth, concentrated, offering mineral and spice-laden black raspberry, cherry and violets with a touch of cracked pepper.
The finish is harmonious and extended.
This may be the value-based staple in your everyday repertoire of versatile red wines.
Load up today, as this is the best example of this wine to date.
Highly recommended!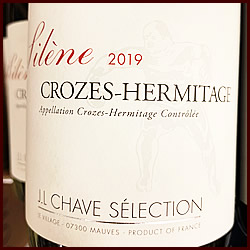 2019 J.L. Chave Selection Crozes-Hermitage Silene
(France, Northern Rhone, Crozes-Hermitage)
$32
We adore this Syrah year in and year out and the 2019 once again raises the bar.
Three words come to mind: pure, elegant and intense.
The wine begins with ripe fruit balanced out by backbone and structure. Plum, blue fruit, black pepper, pencil lead, and warming spices combine with good acidity and tenacious but smooth tannins.
Perfect with heartier comfort foods such as cassoulet or braised beef short ribs.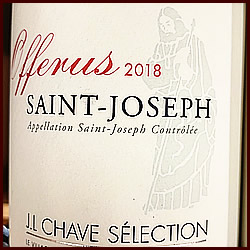 2018 J.L. Chave Selection St. Joseph Rouge Offerus
(France, Northern Rhone, St. Joseph)
$38
In the world of Northern Rhone greatness, Chave is the authority. Known for their balance, consistency, and insane age-ability, Chave wines are a benchmark for Syrah worldwide.
'Offerus' shows smoky notes of ripe dark fruit and violets, with spice, meat, and earth undertones.
Pair with all things grilled!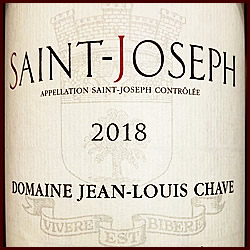 2018 Domaine Jean-Louis Chave St. Joseph
(France, Northern Rhone, St. Joseph)
$84
From estate fruit, the 2018 St. Joseph is a study in benchmark Syrah. Ripe black and blue fruit, incense and potpourri qualities with black olive and exotic spice notes. Vibrant, suave, and energetic.
This is a formidable wine with power and depth.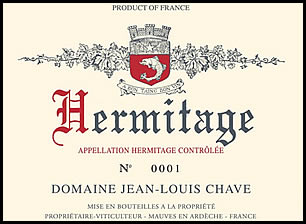 And now for their two flagship wines.
We begin with the white.
-
2018 Domaine Jean-Louis Chave Hermitage Blanc
(France, Northern Rhone, Hermitage)
$345
We think Jean-Louis fashions one of the greatest white wines on planet earth: this Hermitage Blanc.
Beautiful white flowers, honeysuckle, quince, and toasted almond notes dominate the nose, coupled with a mix of richness and opulence. There's incredible purity, freshness, and focus; a wine that might just blow your mind.
-
As Jean-Louis has said over and over, drink this Hermitage Blancs within 2-3 years of its release or hold them for a decade before investigating the wine. The Roussanne/Marsanne blend tends to go to sleep for a while but when it wakes up there's a whole other brilliant beast to explore.
-
And now his brilliant Red:
-
2018 Domaine Jean-Louis Chave Hermitage Rouge
(France, Northern Rhone, Hermitage)
$345
As the largest landowner on the hill of Hermitage, the Chave family's consistency and commitment to crafting the world's finest Syrah has been unmatched over five centuries.
Many hours of thought, insight, and conversation go into the final component blend for Hermitage. While percentages vary from year to year, the constant backbone of Hermitage Rouge is Syrah from Bessards Vineyard with its steep, granitic slopes. These vines average 50 years in age with the best vines reaching 80+ years in age.
-
As far as the wine goes this one is immensely complex with notes of red fruits, dark chocolate, cassis, spices, garrigue,  fresh cracked pepper, and turned earth light up the senses. The palate is concentrated, deeply complex, and full of plush red fruits.
The elegance of this wine is unmatched with firm acidity, fine tannins, and a finish that goes on for minutes.
-
That's our Chave line up. Wine is in stock and ready to be enjoyed.
-
Call or email 805.568.1961 to reserve yours and we'll have it ready ASAP for curbside pickup
or in store pick up (or even delivery if you like)
-
Thank you for your support.
Renegade Wines
417 Santa Barbara Street Suite A-6
Santa Barbara, CA 93101
805-568-1961
www.renegadewines.com