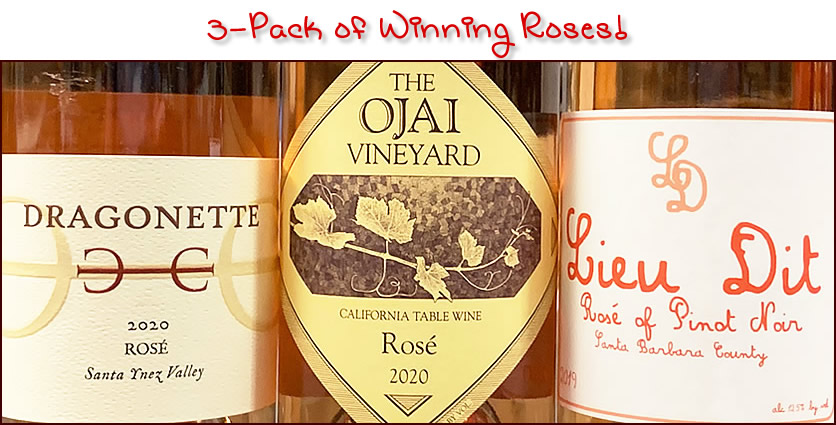 Our informal verbal questionnaire asked to recent Rose customers consisted of a very short inquiry:
Do you have a favorite local Rose?
Over the course of a few weeks we began to hear a pattern: out of the myriad of local Roses three winery names kept popping up. You've probably deduced that the three most popular are pictured above.
-
We've put this three-pack together for an awesome Rose experience.
Dragonette is a blend of 91% Grenache, 9% Graciano from Two Wolves Vineyard (56%) and Vogelzang Vineyard (44%).
The wine shows expressive bright red fruits, (strawberries & raspberries) along with watermelon and green apple, with citrus peel and super bright acidity. A perfect balance of ripeness and volume alongside brilliant energy.
A most harmonious Rose.
-
The Ojai Vineyard Rose shows enticing aromas of orange blossom, rainier cherries, and persimmons. The palate opens with a citrusy crack and flows into a creamy, substantial mid-palate that's energized by prickly minerality followed with a resonant and zesty finish.
A super-cool blend of 54% Syrah, 35% Carignane, 7% Riesling, 4% Grenache.
-
Lieu Dit Rose is 100% Pinot Noir. Why would you do this to the grape? Because this Rose is fabulous.
Blood orange, white flowers, and juicy watermelon mingle with crunchy acidity that glide into a tangy, savory finish.
Perfect for sipping on sunny afternoons!
-
We have a limited number of these 3-packs so call or email to reserve yours.
They are specially priced too:
-
$74 for the trio (normally $83.50).
-
This will kick your Summer into high gear!
-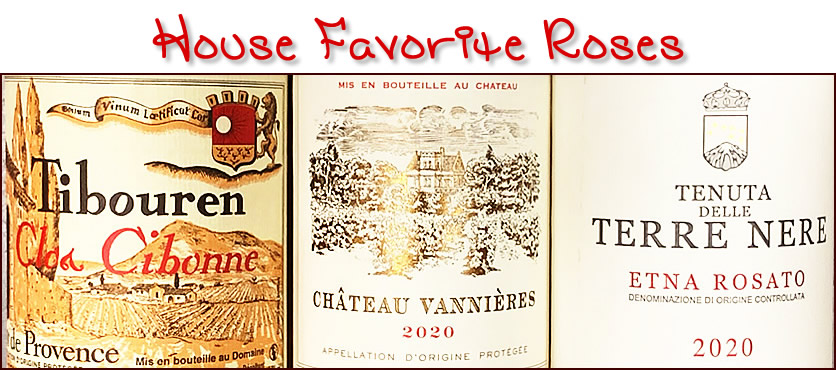 For this Rose 3-Pack we selected three of our favorite Roses. There are other favorites of course but having tasted these specific ones over the weekend they are fresh in our minds.
-
Clos Cibonne has been one of our fastest moving wines this year and for good reason. This 100% Tibouren Rose has a multitude of layers and charm.
There's orange blossom and watermelon, tangerine and orange rind, raspberries, wild strawberries, blood orange, red currants and herbs...the flavors continue to evolve as we drank the bottle. Wow is right!
-
Chateau Vannieres Rose is a new one for us. From Bandol, this wine is at first striking and captivating with white peach, watermelon rind and blood orange taking center stage followed by mouthwatering acidity and a delightful herbal component (rosemary?).
This Mourvedre-dominant Rose is sheer genius.
-
Finally we arrive at the spectacular Mt Etna Rose from Terre Nere.
Mostly Nerello Mascalese with a percent or two of Nerello Cappuccio. Lots of cherry and citrus character with juicy peach, nectarine and soft red berries elements. Ever so delightful.
-
Our current-favorite 3-pack of Roses are on sale for $85 (usually $96).
Another delightful way to enjoy your Summer.
-
And here's an added bonus: Purchase a 3-pack or each and save a bit more:
$154 for the six bottles.


-
Call or email 805.568.1961 to reserve yours and we'll have it ready ASAP for curbside pickup
or in store pick up (or even delivery if you like)
-
Thank you for your support.
Renegade Wines
417 Santa Barbara Street Suite A-6
Santa Barbara, CA 93101
805-568-1961
www.renegadewines.com