There were many of you who were sad to hear that this Bibi Graetz 100 points Testamatta sold out so quick. The GREAT news is that we received 12 more bottles!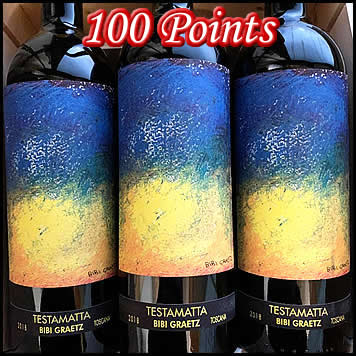 So if you missed out before give us a call or send us an email to reserve yours ASAP.
-
Here's the text from the previous newsletter:
-
"Testa-Matta" in Italy is someone with a strong personality, a distinctive style and positive attitude and creativity. No other name could describe better Bibi Graetz flagship wine. Super-Tuscan made with 100% Sangiovese from old vines, this wine is the result of the combination of tradition and creativity, elevating the idea of Tuscan Sangiovese and bringing the word "Super-Tuscan" to the next level.
-
From Bibi himself:
"The elegance of Sangiovese variety is always the main character of Testamatta wine. This vintage shows how Sangiovese can be fresh, fruity on one hand, elegant, long and persistent on the other. 2018 is rich of blackberries and blueberries, earthy hints and light mineral undertone. It has a pronounced intensity accompanied by silky and important tannins that make the wine long and persistent. This Testamatta is persistent and rich of finesse,
one of the greatest I have ever made." -Bibi Graetz
-
This gorgeous wine is on sale for $99 / bottle.