You may have met Constantin Richter at Renegade a few years back when he poured for us an incredible line-up of Rieslings. There were stars and then there were stars. A very memorable evening.
Today we have the pleasure of offering you his new releases from the incredible 2020 vintage:
Four Kabinett Rieslings that astound.
-
The Richters are known for their serious yet playful wines and they do not disappoint in the filigreed 2020 vintage. The whole collection shines through beautifully light-footed expressions of slate-infused Mosel Riesling.
-
This superb set of Kabinett wines have a elegant intensity rarely seen even by the great standards of this Estate. The Brauneberger Juffer and Wehlener Sonnenuhr bottlings are textbook ambassadors of their respective terroirs.
While the Max Ferd. Richter wines were often quite open in recent vintages, this is much less the case in 2020; let these beauties rest (or decant) before enjoying them. But patience will be rewarded.
-
And now the wines:
Each wine comes from a different vineyard in the Mosel expressing terroir that is at once similar and different. Tasting these wines side by side is kind of mind blowing as are the prices of these world class gems.
-
Tasting notes for the wines come from Jean Fisch and David Rayer and their award winning publication Mosel Fine Wines. It's free to subscribe and we highly recommend signing up.
-
2020 Weingut Max Ferd. Richter Graacher Himmelreich Riesling Kabinett
(Germany, Mosel Saar Ruwer)
$24
The Graacher Himmelreich Riesling Kabinett offers a beautiful nose of white peach, melon, pear, aniseed herbs, and smoky elements. The wine is packed with juicy and subtly zesty flavors on the beautifully light-footed palate and leaves a mouthwatering feel of peach, herbs, and spices in the long and animating finish. This beautifully airy expression of Kabinett just needs a few years of bottle aging to integrate its sweetness and develop more cut. Insanely delightful.
-
2020 Weingut Max Ferd. Richter Wehlener Sonnenuhr Riesling Kabinett
(Germany, Mosel Saar Ruwer)
$24
The Wehlener Sonnenuhr Riesling Kabinett was made from 100 year old un-grafted vines. It offers a superb nose of white flower, smoky elements, herbs, white flowers, and fine spices. The wine is subtly creamy yet so incredibly light-footed on the palate. Loads of minerals, floral flavors, and finely spicy elements add to the incredibly playful presence. The finish is airy, intense, and incredibly long. What a massive success!
-
2020 Weingut Max Ferd. Richter Veldenzer Elisenberg Riesling Kabinett
(Germany, Mosel Saar Ruwer)
$24
The Elisenberg Riesling Kabinett offers a beautiful nose made of mirabelle, quince, melon, tangerine, whipped cream, herbs, and lots of smoky elements. The wine is gorgeously playful on the palate and leaves a stunning feel of herbs and ripe fruits in the juicy finish. The aromatic intensity paired with the airy and light-footed structure are truly remarkable. Decant this one about 3 hours to get the most out of this beauty!
-
2020 Weingut Max Ferd. Richter Brauneberger Juffer Riesling Kabinett
(Germany, Mosel Saar Ruwer)
$24
The Brauneberger Juffer Riesling Kabinett offers a gorgeous nose made of white peach, herbs, and fine spices. The wine feels slightly sweet on the palate at first before a great feel of citrus zest lifts up the flavors in the finish. The aftertaste is simply stunning, being at the same time light- footed, gorgeously racy, mouthwatering, and packed with flavors. This gorgeous success now really only needs a little bit of decanting for the touch of creamy sweetness to integrate.
-
So there are four Rieslings to consider; a four pack if you will...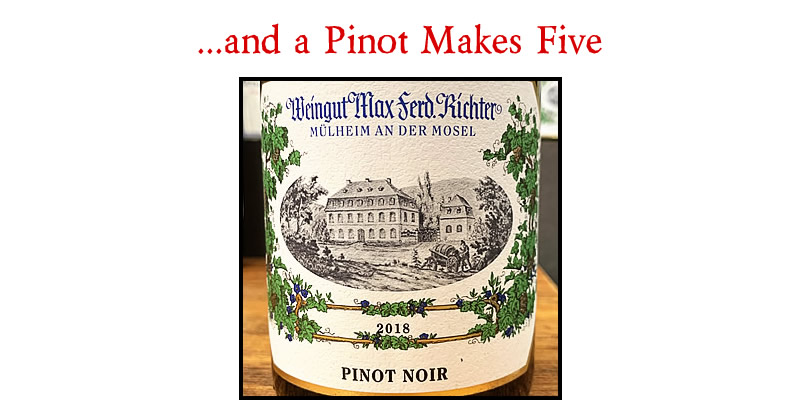 2018 Weingut Max Ferd. Richter Spatburgunder
(Germany, Mosel Saar Ruwer)
$38
Back in the before times, around March of 2019, we were reading the latest issue of Mosel Fine Wines and came across a page with a large feature box entitled You Have To Have This Wines. Well, not exactly. But the review of the above pictured wine was so great that we contacted the importer and begged them to bring us over a dozen or so cases even though we had not tasted the wine.
They obliged and by late 2019, we at Renegade along with many of you who are reading these words now, had a wine-changing moment: Pinot Noir from Germany CAN BE THIS GOOD.
-
We brought in a few more cases for this newsletter to add one more wine to the Four Pack of Rieslings.
-
To encourage the sampling of all four Rieslings we are bundling them together for
the low, low price of $84 (usually $96).
-
If you would like to add this fifth bottle (the Pinot Noir) to your tasting line-up
we'll throw in an extra discount which brings the 5-pack to $115.
-
We hope you enjoy the wines as much as we did, we are, and we will.