Another holiday weekend is upon us and what better way to celebrate than with Six Packs To Go in Red, White and Rose.
Whether you're just trying to cool off (Rose please), picnicking with fried chicken, ceviche or potato salad (pass the white wines), or grilling up tri-tip, ribs, marinated portobello mushrooms (Red is what I said), these To Go Packs will help you enjoy the gloriously warm weekend.
-



It may be blistering outside but a cold glass of refreshing Rose is the perfect way to cool off.
We begin with a Loire Valley favorite from J. Mourat (we call this 'The Owl Rose'). Aromatic with notes of fresh strawberries, raspberries & cherries with floral overtones and nice minerality.
-
Perhaps the most unique Rose of the bunch made from 100% Tibouren from Clos Cibonne. Red currants, blood orange, herbs and wild strawberries. A serious, gastronomic rose with structure and great character.
-
One of the pinnacles of Bandol is the Rose from Chateau de Pibarnon. A blend of Mourvedre, Cinsault, and Grenache, Wild strawberry, fresh melon with a stony core. Add notes of plum, salty peach skin, and spice with the classic saline and savory character and you have one heck of a classic Bandol rose.
-
From Chateau Miraval is their 'Studio' rose. Pale salmon in color with a lovely nose of strawberry and peach followed by beautiful juicy notes of redcurrant and raspberry. A delightful finish rounds out this beauty.
-
Next, a Spanish Basque Rose from Ameztoi. Hondarrabi Zuri and Hondarrabi Beltza are the two grapes that make up this zippy, fresh, slightly effervescent Rose. Think pale strawberry and subtle watermelon. This one's a keeper.
-
If you notice just one wine on the beach and seaside restaurants in the south of France, it is almost certainly Minuty Prestige. This wine has become the emblem of the Riviera lifestyle. Bright notes of red berry paired with melon and citrus peel. A lush creamy texture and sensational finish. This is one classy Rose.
-
This Grab & Go Six Pack of Roses retail for $172
but are on sale for $145
-
Call or email 805.568.1961 to reserve yours and we'll have it ready ASAP
-



Cool white wines on a hot Summer day!
We begin with a refreshing Chablis from Brocard. Lots of shells and stones in this one. Mineral-driven, savory, and addicting.
-
From the winery Inomessiniaki in Greece is this beautiful aromatic wine with gorgeous fruit and a persistent finish. One of our new favorite wines from the region.
-
From Austria and the legendary winery Gobelsburg (founded in 1171) is a brilliant, lean, neat Gruner Veltliner. This may be their best vintage yet.
-
We've been in love with wines from Alto Adige for ages but there's something extra special about wines from Terlano. Their Pinot Bianco is bonkers! Asian pear, apricot, heirloom apple, minerality, and a silky smooth finish. Yes please.
-
Donnhoff Dry Slate Riesling is lean at first, fresh and bright then opens up to reveal extraordinary depth and structure. But on hot weekend days all we're really focused on is keeping our glass full with this one.
-
Finally, from Grosjean up in Valle d'Aosta from the native varietal Petite Arvine is a wine that tastes like freshly fallen snow. Kind of. There's much more to it than that. But that's what came to mind when our taste-buds first encountered this wine. Peach and fennel notes are met with a saline, alpine-influenced finish. Again, it doesn't quiet capture this magical bottle but comes close.
-
These Grab & Go Six are on sale for $132 (usually $154) until we're sold out.
-
Call or email 805.568.1961 to reserve yours and we'll have it ready ASAP
-
-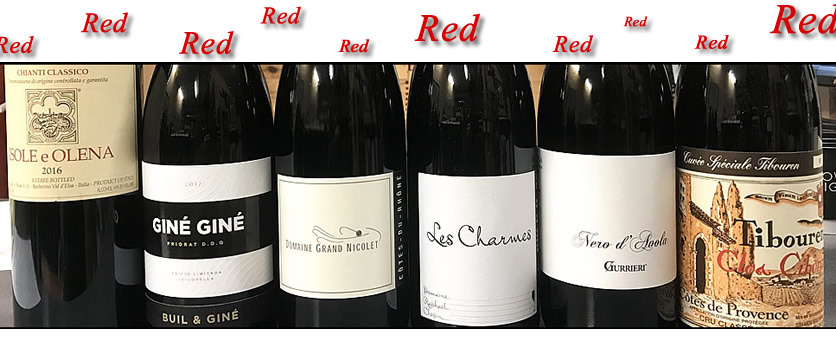 Now we arrive at some serious Summer Reds. Whether you're grilling or chilling these are exceptional wines.
-
We've featured Isole e Olena Chianti Classico before but it's so delicious we've included it one more time. We've had this with burgers, tri-tip, NY Steaks, sunsets and it keeps getting better. In a word, Fantastic.
-
From the region of Priorat this 50/50 blend Grenache and Carignan from Buil & Gine is a lovely, fruit forward, seducer of a wine. This one's all about fruit, flowers, and minerally goodness.
-
Domaine Grand Nicolet's Cotes du Rhone is a study in gorgeous fruit, beautiful aromatics, and superb balance. A textbook Rhone wine that's outstanding.
-
We move along to Beaujolais, specifically a wine from Morgon by the brilliant wine-maker Raphael Chopin. This is his single-vineyard expression, Les Charmes, a bold, dark berry with friendly hints of forest floor wine. Try this with grilled salmon.
-
Gurrieri is a tiny winery in Sicily that produces truly outstanding wines. His 100% Nero d'Avola, a red variety that is indigenous to south-eastern Sicily, has gorgeous elegance and beautiful texture. Medium bodied, dark earth and berry notes, clean (some old school winemakers' Nero tastes a bit dirty. This one is anything but). An outstanding example of this grape.
-
Our sixth red is another wine from Clos Cibonne, also 100% Tibouren (like their Rose). A lovely, spicy wine, full of red berries, Mediterranean spice, and sheer elegance. A great wine to sip chilled with charcuterie. We've also enjoyed this wine with mushroom risotto and bouillabaisse.
-
These six beautiful reds are on sale for $135 (normally $160).