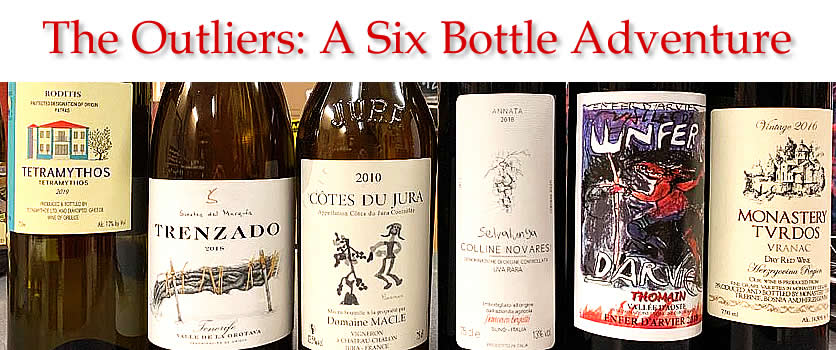 Ready for a wine adventure? We have the six-pack for you. Let's begin in Greece.
The 2019 Tetramythos Roditis (that's the grape) from Peloponnisos in Greece is outstanding. Truly. Located on Mount Aroania and cooled by the winds coming from the Gulf of Corinth, this dynamic organic wine is delightful, mellow, refreshing, with hints of melon, lemon-curd, wet stone and nectarine with a streak of salinity running through it. A very dynamic wine that's perfect with seafood.
-
Next we arrive at the Canary Islands with a white wine from Suertes del Marques located in the Valle de la Orotava on the island of Tenerife. 100% Listan Blanco. A crisp white reminiscent of an unoaked white Burgundy. Along with Envinate's bottlings, Suertes del Marques is the region's superstar. The wine has a class, clarity and precision that really sets it apart.
-
Moving along to the region of Jura for another superstar, top of his class, winemaker/winery: Domaine Macle.
The 2010, 85% Chardonnay and 15% Savagnin, is made in the Ouille style, which is normal everywhere else (top up the barrels, protect the juice from oxygen) but in Jura it is very rare.
Upon first opening, you might think this wine is oxidized, but as it opens up, it cleans up, evolves and becomes a masterpiece! Salty, briny, olive oil, mineral elements here, but there's also plenty of candied orange peel, apricot, with honeycomb, nuts and wax.
For those more interested in the Jura, we have Wink Lorch's book for sale $35.  When Wink was here for a book signing last summer, we told her about our visit to Macle last February. She squinted her eyes, took a minute, then informed us just how lucky we were. "There was no where up to go from there."
-
As for the reds we begin way way up in Northern Piedmont with a 2018 Francesco Brigatti Uva Rara.
Uva Rara is the grape which translates into, well, 'rare grape'.
The aroma is very complex, with hints of red roses, violet, red, almost black cherries, and raspberries and subtle spices. Very fresh acidity, mid-weight tannins, a good complement to cured meats, most pasta dishes, roast chicken.
-
The second red is from Daniel Thomain in Enfer d'Arvier in the Valle d'Aosta.
This is the only wine he makes from the Petit Rouge varietal native to the region.
There's a story about the label here
The wine itself is rustic as we've said before but also beautiful with gorgeous red berry fruit and a lively freshness.
-
Our final wine, one we've mentioned before, is from Bosnia-Herzegovina, from a Serbian Othodox Monastery
where they really know how to make wine.
We've had two bottle of this lately and are continually impressed.
-
The OutlierSix Pack retails for $185 but through the weekend
is available for $160 while in stock.





Everyone loves fresh dressings for salads. These two ingredients are a must.
Great Olive Oil and the BEST red wine vinegar we've ever had.
$40 for the pair (usually $46)
-
Our go to dressing recipe is in The Paris Cookbook by Patricia Wells.

Call or email 805.568.1961 to reserve yours and we'll have it ready ASAP for curbside pickup or delivery.
Thank you for your support.
Renegade Wines
417 Santa Barbara Street Suite A-6
Santa Barbara, CA 93101
805-568-1961
www.renegadewines.com