Let's start with the bottles on the ends. They have one particular thing in common. They are very hard to find due to their extremely small production.
In fact the bottle on the left from Cassis in Provence took us seven years to source.
The bottle on the right from Mt. Etna in Sicily rarely is found outside the island (about 120 cases produced).
Both are jewels. Mt Etna Rose, from 100% Nerello Mascalese (Filippo Grasso is the producer) is the best volcanic rose we've tasted.
Domaine du Bagnol Rose on the left has spice and freshness, great texture, and is perfect with seafood grilled, or seafood ceviche.
-
As for the others: Gobelsburg from Austria is a blend of Zweigelt, St. Laurent and Pinot Noir. Nuances of wild cherry and fresh berries make this Rose an optimal universal food companion.
-
To the right is Lieu Dit's 100% Pinot Noir of Rose from Santa Barbara County. This is always a winner in our books.
It's loaded with flavors of blood orange, white flowers, and juicy watermelon. Perfect for sipping on sunny weekend afternoons!
-
Our most popular Corsican Rose has arrived and it's flat out brilliant.
A subtle salinity graces the wild herbs and spring berries on the nose while the palate is citrussy and utterly delicious with a long finish. A great wine with Mediterranean dishes such as sea bass, halibut, bouillabaisse and even lamb stew.
-
And the Sancerre from Paul Thomas in Chavignol rounds out the six pack.
Bia Hanoi says it best:
Ahh, da stromen dir die Walderdbeeren nur so in die Nase. So stellt man sich mit verbundenen Augen einen Pinot Noir vor, auch am Gaumen unverkennbar. Sehr gelungene Rose-Variante, mundfullend, fruchtig mit praziser Spannung, schoner Abgang. Herrlich!
or
Ahh, the wild strawberries just pour into your nose. This is how you imagine a blindfolded Pinot Noir, also unmistakable on the palate. Very successful rose, mouth-filling, fruity with precise tension, nice finish. Wonderful!
-
These six great Roses retail for $155 but through the weekend
are available for $130 while in stock.

-
Call 805.568.1961or email us here to reserve yours and we'll have it ready ASAP for curbside pickup.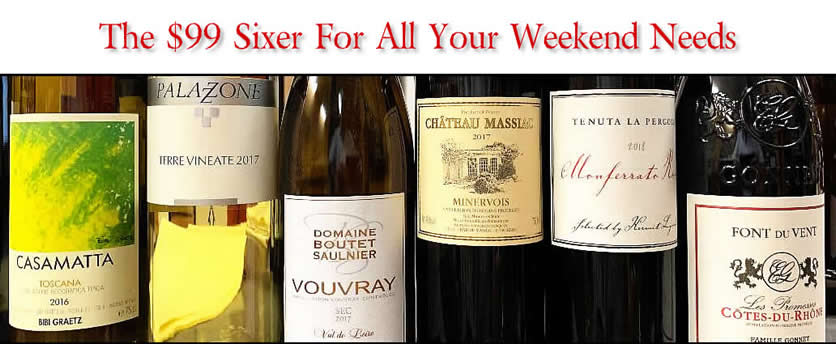 This is a long weekend six pack if there ever was one (you might need two).
Starting with Bibi Graetz Vermentino made in his family castle in Tuscany. Perfect with your grilled scallops of course.
Then a wine from Orvieto in Umbria: a cool, unique wine. A blend of Procanico 50%, Grechetto 25%, Verdello, then Drupeggio (you know: Drupeggio!) and Malvasia. It's an amazing creation.
-
Next it's our favorite (perhaps yours too): crisp. dry Chenin Blanc from Domaine Saulnier.
Zippy, lean, inviting.
-
On to the reds:
Chateau Massiac's Rhone blend from Minervois (GSM of course) is outstanding. Enticing notes of juniper, rosemary and thyme as well as the savory flavors of wild berries and a hint of the "animal". Not sure what animal. Perhaps that's why it pairs so well with grilled lamb, pork, and burgers of all sorts!
-
The wine from Tenuta la Pergola (Kermit Lynch Imports) is a blend of Barbera, Dolcetto, Bonarda, Freisa, Croatina grown in the heart of Piedmont. It's dark, savory, with hints of Mediterranean spice.
-
To round out the six-pack is a Cotes du Rhone from Font du Vent.
For a Rhone blend it is fairly unique: Grenache, Syrah, Cinsault (no Mourvedre) but wow does it work.
A delightful mouthful of red fruits and licorice, blended with just the right touch of spice; an easy, delightful drinking wine. This wine is perfect with anything barbecued from fish to meat.
-
And as the banner reads, these six weekend wines are $99.
-
Call 805.568.1961or email us here to reserve yours and we'll have it ready ASAP for curbside pickup.
-


You're already asking yourself: Shiverick who? David Shiverick has been importing epic producers from Europe for over 30 years. Notice Jean-Louis Chave, Paul Thomas, Virna in the mix here?
He's got a nose and a palate that's quite something. This six-pack represents some of the best from the Shiverick portfolio (wait until you get to the White Burg!).
-
Starting with the reds on the left:
-
You may have met Virna Borgogno a few years back at Renegade. She creates the most memorable wines. We've featured her 2015 Barolo in this pack. Grill something great with this one.
-
All Syrah, All Jean-Louis Chave. One of the top producers in the Northern Rhone.
This bottle is, dare we say, BOMB!
'Offerus' shows smoky notes of ripe dark fruit and violets, with spice, meat, and earth undertones. Pair with all things grilled! (yes, there's a trend here).
-
On to the whites:
-
Never had a Chardonnay from the Burgundy appellation of Auxey-Duresses? It's right above Meursault.
You are in for a treat. Jean-Charles has created a spectacular wine here. Single-vineyard genius.
This one will blow your mind.
It exhibits notes of pear, lime zest and hazelnuts, subtly framed by new oak (don't let that worry you). On the palate there's a playful dance between fruit, acid, and minerality. Satisfying finish. Worthy indeed. One of his best friends is PYCM.
-
You need to experience a great Sauvignon Blanc and this one from Sancerre is it. Beauiful juice, elegant, wonderful presence. Notes of jasmine and almond shine through a mineral driven, slightly creamy texture, with bright undertones of green apple and grapefruit. Perfect as an aperitif and also ideal for fresh oysters, grilled seafood, lemon chicken, or a simple plate of fresh goat cheese and fruit. Happy weekend!
-
Our sixth bottle you may have already enjoyed. It's been ever so popular. However, if not, this is the perfect time to sip & smile. A blend of Carricante, Catarratto, Minello Bianca, Grecanico from Mt Etna.
White stone fruit and flowers, with a minerally decor.
An incredibly versatile wine
-
These six great wines retail for $240 but through the weekend
are available for $199 while in stock.
-
Once again: Call 805.568.1961or email us here to reserve yours
and we'll have it ready ASAP for curbside pickup.
Thank you for your incredible support Renegade Wines
417 Santa Barbara Street Suite A-6
Santa Barbara, CA 93101
805-568-1961
www.renegadewines.com