New Grab and Go:



We are extremely excited about these six wines. Not only do they come from world-class wineries, the wines themselves are each benchmarks in their own right.
-
From left to right:
Austria
-
Brundlmayer's Gruner Veltliner is lean and minerally, fresh and exciting. Perfect for sipping during the upcoming heatwave.
-
The Gruner Veltliner from Gobelsburg is awesome. Fantastically structured and precise. After all, they've been making wine since 1171.
-
What can one say about Nikolaihof? The oldest winery in Austria. Wine has been made at this site for over 2,000 years!
The cellar walls were built by the Romans. One of the first in the world to be Demeter certified.
This Gruner is a playful creature with charm and sophistication. It's the riper of the three (but not sweet of course) so if you would like to drink these in order start with the Brundlmayer and finish with the Nikolaihof.
This is a great way to experience the diversity of the varietal.
-
And from Germany
-
Donnhoff is legend. They invented great wine in the Nahe before anyone thought it was possible.
There's plenty of minerally goodness paired with good acidity and notes of pear, quince, citrus, and slate (slate? Why not!).
-
In the Mosel Markus Molitor defines perfection. This Kabinett is and infectious wine.
Orange blossom, mint and elder flower.
Raw almond and wet stone.
Gooseberries, salinity.
We could go on...
-
There's a very special place in our heart for the Merkelbach brothers (twins by the way).
Approaching 80 years of age and their 62 or 64 vintage (depends which brother you ask), they decided that the 2018 vintage would be their last (in the sense that they would no longer do everything. Going forward they hired 'one soul' to help).
As for the wine? Eternal youth in a bottle!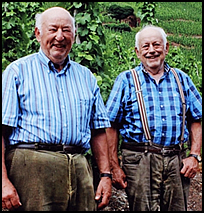 -
These wines are usually $215 but through the weekend
the Gruner/Riesling 6-Pack is on-sale for $175 .
-
Call or email 805.568.1961 to reserve yours and we'll have it ready ASAP for curbside pickup.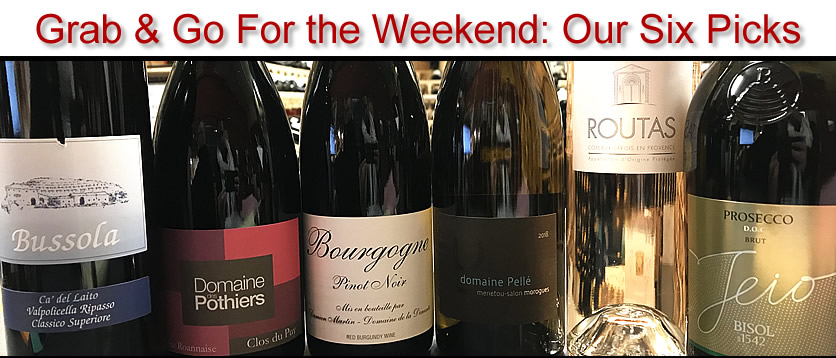 A six pack of wine for all your weekend needs.
-
Changing it up a bit: From right to left:
-
Spritz-o'clock time? Start with this clean, fresh sparkling wine from Italy, then add your favorite vermouth (or Aperol), sparkling water and fruit. Or just chill the bottle down and have a glass or two.
-
From Provence this Grenache-based Rose has a silky texture, savory components, and a memorable finish.
-
Domaine Pelle creates a gorgeous, elegant Sauvignon Blanc from the Menetou-Salon appellation right next door to Sancerre.
-
Everyone's go to Pinot Noir. Enough ripeness to satisfy the family, enough Burgundian character to please the Francophile.
-
Domaine Pothiers, based in the farthest reaches of the Upper Loire, is our kind of Gamay. Great body, with balance and attitude. Burger wine? Perhaps. But Salmon would be perfect.
-
Get the grill hot and the steaks/lamb chops/ribs marinating. Pop this bottle open and enjoy the heck out of your day.

This Weekend Six-Pack retails for $135 but through the weekend
is available for $115 while in stock.


-
Call or email 805.568.1961 to reserve yours and we'll have it ready ASAP for curbside pickup.
Thank you for your support.
Renegade Wines
417 Santa Barbara Street Suite A-6
Santa Barbara, CA 93101
805-568-1961
www.renegadewines.com