New Grab and Go:
-
New Rose 6-Pack & The Piedmont Pick Six (or Seven)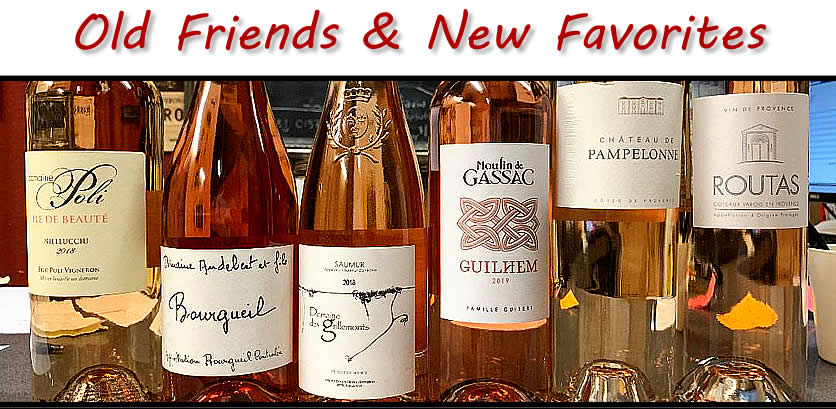 The hot streak continues: past and present combined we are looking at 15+ days above 75F in Santa Barbara.
What better wine to cool off than a cold bottle of refreshing Rose.
This is our Grab & Go Rose Pack #3. They've been extremely popular so reserve yours quickly.
-
From left to right:
-
Once again a top-notch Corsican Rose, followed by two Roses of Cabernet Franc from the Loire Valley.
The savory and delightful Moulin de Gassac Rose from the South of France.
The tremendous Pampelonne Rose from Provence is back in stock and included in this Grab & Go.
And finally: Routas has arrived! Soft and elegant and extremely thirst-quenching.
-
Usually $110 but through the weekend this Rose 6-Pack is on-sale for $95 .
-
Call or email 805.568.1961 to reserve yours and we'll have it ready ASAP for curbside pickup.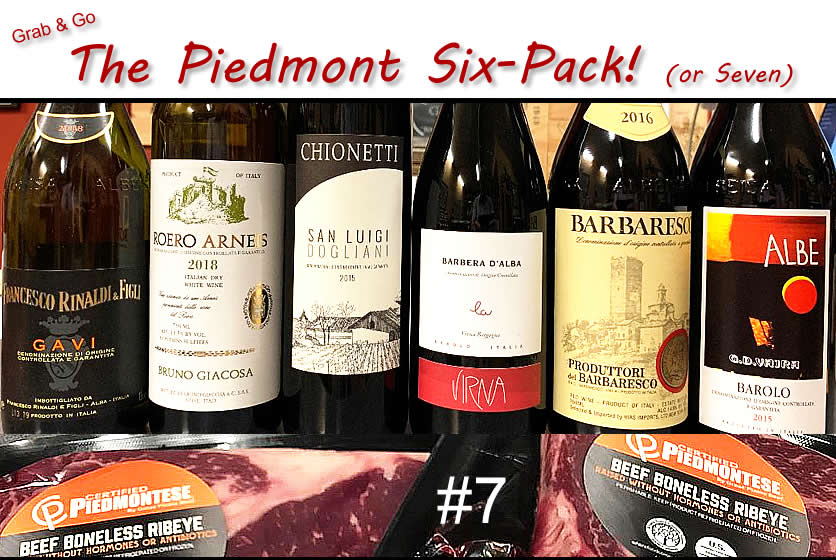 Let's talk about #7 first. It's steak. Not just any steak but certified Piedmontese steak both Ribeye (pictured) and Sirloin Fillet.
These were just flown in from Italy and are available from Metropulos in the Funk Zone - 805-899-2300 - And if you have not had their Gyros you're missing out!
-
And now, you guessed it: left to right:
-
This first two winemakers are extremely famous and well known for their Barolos and other reds but they both make a white wine that is stunning and world class.
This first is from the varietal Cortese in the Gavi appellation in the Southern part of Piedmont.
The wine itself: WOW! White flowers, chamomile and white peaches, lychee, lime peel, garden herbs and minerals with softly toasted hazelnuts. It's insane.
-
And then Bruno Giacoasa's Arneis raises the insanity factor to a whole new level.
Once upon a time this grape was almost extinct but thanks to Bruno's tiredless effort he has raised the awareness of this varietal and the wine to world-class status.
-
Our first red is from the Dolcetto grape. Dogliani is the appellation. Think of it like this: If it says Barolo you know it's Nebbiolo. If it says Dogliani, Dolcetto is what's in the bottle. And the best example of it too.
This is a rich and powerful wine with an intensity seldom seen in the grape.
-
How about a little Barbera. If you attended our tasting with Virna herself you know that she creates gorgeous, elegant, fascinating wines. This Barbera is a stunning example.
-
What would Barbaresco be without Produttori del Barbaresco. They continue to raise the bar year after year in the appellation and in 2016 they may have created their singularly BEST BOTTLING EVER. We do not remember such a beautiful wine at this early age. It has everything one could want.
-
Finally, what would Piedmont be without Barolo? What would Barolo be without G.D. Vajra.
We love the label and we love the wine.
-
These reds pair very well with the Piedmont steaks from Metropulos but surprisingly,
if you're in the mood, the two whites are worthy contenders too.

These six Piedmont wines retail for $215 but through the weekend
are available for $185 while in stock.


-
Call or email 805.568.1961 to reserve yours and we'll have it ready ASAP for curbside pickup.
Thank you for your support.
Renegade Wines
417 Santa Barbara Street Suite A-6
Santa Barbara, CA 93101
805-568-1961
www.renegadewines.com