Wine Tasting Schedule:
(Tastings are at Renegade Wines and are 5-7pm unless otherwise noted)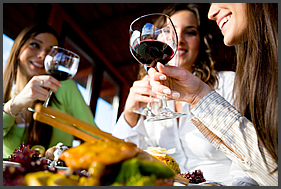 Friday, Oct 13: Gobelsburg with Barbara Koller
One of the top German wine producing estates.
We will be featuring Gruner Veltliners & Rieslings
-
Tuesday, Oct 17: Pojer e Sandri
We fell in love with this Alto Adige winery on our travels in Italy this last May.
By a happy coincidence Federico Sandri, THE SANDRI, will be at Renegade to pour.
Muller Thurgau, Sauvignon, Nosiola, Pinot Nero...
-
Monday, Oct 30: Ladies Tasting w/ Rory Cox
Rory, fine wine specialist with The Henry Wine Group
will bring out some Spooky Good Values to share with everyone.
Five Wines, Ten Dollars
-
Saturday, Nov 11: The Wines of Bibi Graetz
From Tuscany, Bibi is considered one of Italy's most ingenious winemakers. A gatecrasher into the Tuscan star-studded wine scene. And he makes his wines in a castle!
We will pour five of his wines between 3pm - 5pm.
Vermentino, Sangiovese, and a few Super-Tuscan blends.
-
Thursday, Nov 16: The Wines of Thanksgiving
Check back for details
-
Our Annual Champagne Tasting This December
Check back for details
-
Thursday, Dec 28: A Sparkling Kick-Off to the New Year's Weekend!
Party preparations start here!
We will be pouring a wide range of Sparkling Wines from 5-7pm.
-
The harvest and holiday season is upon us;
Note your calendars accordingly so we can share the bounty of the season with you!

Sign up for our Newsletter to receive updates, wine line-ups, new arrivals, and sales.