And Now The Top 10 of 2018:

2006 Chateau Leoville Barton (France, Bordeaux, St. Julien) $90
This wine has had a long slumber in the Bomb Shelter at Renegade until a few months ago. We decided to dust it off and give it a whirl knowing that it just might need another 10 years as Leoville Barton is famous for its harsh tannins when young. To our surprise this was remarkable. Oak and tannins were nearly integrated, the rich, supple fruit was in balance, and the lengthy finish was very pleasing.
We decanted the wine for 30 minutes and were even more impressed. Grab a bottle, grill a steak, and enjoy the evening!

2015 Domaine des Roches Neuves Clos de L'Echelier (France, Loire Valley, Saumur-Champigny) $58.50
It's rare that people compare Cabernet Franc to Chambolle but that's how people are taking about l'Echelier. L'Echelier is one of the standout expressions of the grape. There's a unique haunting perfume, a lifted brightness and energetic minerality to the wine.
Clos de l'Efelier is a 1.8ha clos (walled vineyard) on hard limestone soils. Tasting this wine it becomes obvious that Thierry Germain is at the top. L'Echelier shines in the powerful 2015 vintage. Its elegance and precision are amplified rather than trodden on. It has a wonderful silky texture that is at once special and vivid. A glorious weightless impression sums up this wine.


2017 Chateau de Tracy Pouilly-Fume 'Mademoiselle de T'
(France, Upper Loire, Pouilly-Fume)
$30
Very Best in Class! A customer asked us whether there were any great, reasonably priced, wines from Pouilly-Fume. We confessed to him that we had never had a truly great wine under $40 but many really good ones. Today we can say with confidence we have now had a great wine from this appellation and at a mere $30. And now a little history and tasting notes from this historic property.
Wines have been produced from the vineyards of this Château since 1396. The winery owes its current incarnation to the Count and Countess Alain d'Estutt d'Assay, who resurrected it in 1952. Today it is run by their son, Henry d'Assay, and his sisters.
Pale gold with a silvery shimmer. An open and intense nose, offering notes of heirloom apple and citrus fruit. A fresh citrussy attack on the palate and seductive minerality. This wine has a wow factor of 10. Pair with pungent goat's or sheep's cheeses, or fine seafood such as the Spring Roll recipe from The Slanted Door Cookbook, pg. 9.

2016 Le Vieux Donjon Chateauneuf-du-Pape (France, Southern Rhone) $68
This may be the greatest wine from this estate to date at least equaling the 1998, 2007, and 2010. A blend of 75% Grenache, 10% Syrah and Mourvèdre, and the balance Cinsault, it offers a heavenly bouquet of blackcurrant, pepper, new saddle leather, garrigue, and an assortment of exotic spices. Deep, full-bodied, incredibly concentrated, yet with the purity, elegance, and finesse that makes this vintage so special.

2017 Domaine de Colette Beaujolais-Villages (France, Burgundy) $14
Ahhhhh...this is a wine to relax with on a Monday evening after the start to a hectic work week. It's the kind of wine that says, "Hey, don't worry about it. I'm here now." Medium-bodied, clean and fresh. Loads of red berry fruit and ripe plum. When the glass is emptied you reach for the bottle subconsciously and fill it back up.


Agrapart Champagne Grand Cru 'Terroirs' Blanc de Blancs Extra Brut (France, Champagne) $68

Tension, energy, clarity. Riveting, expressive, power.
Vibrancy, finesse, depth.
Yes, we love this Champagne!



2015 JCR Vineyard Pinot Noir Estate (Santa Barbara County) $45 and discounts!
A good friend of Renegade stopped by to taste us on this wine. He thought we might like it. We didn't just like it, we LOVED it, naming it the best SBC Pinot Noir of 2018.
Winemaker Alison Thomson is knocking it out of the park at JCR (Jalama Canyon Ranch, read more about her here). Not only is it our favorite Pinot of 2018, it was our biggest selling Pinot by far!
Everyone loves it!
Tons of savory red fruits, hints of sunbaked earth, bright, juicy acidity and a clean finish.
Absolutely Stellar!



2016 Domaine de Chevillard 'Les Abymes' (France, Savoie) $28
Darn it if we didn't peg this as a Premier Cru Chablis from Montee de Tonnerre. It has intense minerality, and a fine and focused core. It's crunchy, with nearly limitless dimensions. It's good on day 1, really good on day 2, and GREAT on day 3. We were so obsessed with this wine we ordered 6 cases on the spot. But since winemaker Matthieu Goury bottled a mere 100 cases, and only 20 made it to California, we received two.
The wine is 100% Jacquère from the cru of Les Abymes with vines planted at 1475 feet and approaching 35-40 years old. With its intense minerality we love pairing it with shellfish, ceviche, oysters, but really love experiencing the wine on its own.



2016 domaine de fa Fleurie (France, Burgundy) $35
The Graillot family is legendary in the Northern Rhone and now they have expanded their holdings to include a few dozen acres in Beaujolais. This wine from the village of Fleurie is an outstanding example of what the new generation of winemakers are doing in Beaujolais. Forget Beaujolais of the past with its watery, sour red berry fruit and unloved earthiness. Today's Beaujolais can stand up to the brightest in Burgundy! This wine is medium to fuller bodied with nice rich red and dark berry fruit. There's a pleasant spice, and beloved traces of exotic spices. Outstanding!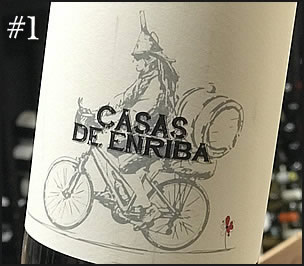 2016 Laura Lorenzo 'Casas de Enriba' (Spain, Galicia, Valdeorras) $34
"No one has seen a woman like this in the vines of Galicia and I'm not sure they're ready for her." -Alice Feiring.
We would drink this wine every day if we could. It's almost mystical.
Winemaker Laura Lorenzo is gaining an enthusiastic following for her clawed-from-the-earth Ribeira Sacra wines, which are deep and serious, yet transparent and bright. Casas de Enriba is from the neighboring Valdeorras region, made of Mencía on granitic soil. Flavors are juicy and bright, with dark, silky  blackberries and savory, meaty plum fruit, mingled with berry blossoms, graphite, minerals, earth, moss, and flowers. A delicious treat!



That about wraps it up. Salute, Happy New Year, and may you enjoy great food, wines, and friends in 2019.

Thanks you for your support,
and have a wonderful New Year!
Renegade Wines
417 Santa Barbara Street Suite A-6
Santa Barbara, CA 93101
805-568-1961
www.renegadewines.com