And Now The Top 10 of 2017:

2015 Clos Alivu Blanc (Corsica, Patrimonio) $22
On Corsica's eastern shore you will find the estate of brothers Eric and Antoine Poli. Clos Alivu comes from only 3 hectares of vines purchased in 2005 for its 50-year-old vines on limestone, clay and schists soils. This 100% Vermentino is bright & bequiling. Perfect warm-weather wine, paired with grilled scallops, ceviche, grilled oysters.

2015 Jean-Marc Millot Bourgogne Rouge (France, Burgundy) $26
This is a pure, soft, mesmerising Pinot Noir. Full of life and body. Fresh red berry fruit, a solid core of substance, light spice on the prolonged finish. GREAT Bourgogne Rouge. We paired this wine with the duck entree at Opal Restaurant and Bar finding the two absolutely fabulous!


2012 Fiddlehead Cellars Pinot Noir 'Seven Twenty Eight' Fiddlestix Vineyard (Sta. Rita Hills) $44
Who makes great wines? Kathy Joseph does! 2012 is her current release. It's spectacular. While we have our own wine notes, we thought you'd appreciate what Allen Meadow's (Burghound) had to say about the wine:
"A fresh, spicy and cool nose blends notes of both red and dark pinot fruit with discreet spice and floral scents. There is an appealing mouth feel to the delicious, dense and notably rich medium-bodied flavors that coat the palate with extract, all wrapped in a balanced and lingering finale."


2015 Domaine Saint Prefert Chateauneuf-du-Pape Rouge (France, Southern Rhone) $55
We almost wish the wine critics would stop singing high praises for Isabel Ferrando at Domaine Saint Prefert. It's like that perfect neighborhood restaurant that has the best food ever and any given evening you can walk in, greet the owner and chef and enjoy sensations beyond your wildest dreams.
Then it's written up in the Los Angeles Times as Restaurant of the Year.
For now we can enjoy her wines and count ourselves lucky!
This stunning 2015 Chateauneuf du Pape is a wine to buy as it has beautiful concentration and depth, as well as elegance, purity and finesse. Bravo Isabel! Bravo!

2002 Balgera Valtellina Superiore (Italy, Lombardia, Valgella) $36.50
"2002" is not a typo. This is their current release for their Valgella bottling. It's a very different Nebbiolo than what's produced further South in Barolo. More elegance, lighter on the palate, fresh, with hints of earth and brickdust. A wine-lovers wine, to be paired with charcuterie or even wild boar.
This is a fascinating rendition of Nebbiolo.


2014 Francois Leclerc Gevrey-Chambertin (France, Burgundy, Cote de Nuits) $64

THIS is what we think of as classic, old school Gevrey. Dark, brooding fruit, hints of mushroom and damp earth, but NOT TOO MUCH. Acidity and no noticeable oak. A food wine for sure. Once again we paired this with duck, but a week later this was equally brilliant with a plate of Morels in a "light" veal reduction sauce.


2015 Domaine de Trevallon Blanc (France, Provence) $104
So we find ourselves once again at Ca'Dario, a bottle of this 2015 in the wine bag, ready for something we have not experienced before. We order whole Mediterranean Sea Bass, pour the wine, and enjoy the most pleasant of evenings.
This is an incredibly fresh and mineral-driven wine with vines planted on limestone from high-elevation vineyards in Provence.
Marsanne, Rousanne, Chardonnay, Grenache Blanc, Clairette; it's something of a field blend.
The finesse is incredible, the texture unmatched. With the Sea Bass it neared perfection.



2012 Praesidium Montepulciano d'Abruzzo Riserva (Italy, Abuzzi) $36.50
We are always looking for new wines. It's what keeps us motivated, involved, happy, and intrigued. Last Summer our friend Justine, who imports this great wine, brought us their new Riserva to taste. Our first thought as we tasted was: "Warm Hay", followed by a subtle persistence of horse & earth.
Then the fruit began to chime in. Plum nectar, blackberry jelly, aromatic herbs and candied violet, black cherry. And then again, for balance, some 'Warm Hay". This is not everyone's wine. But it's an incredible throwback to the days when wines were made honestly and with integrity. Like the wine below (#2), this is a rare gem.


2012 Emidio Pepe Trebbiano d'Abruzzo (Italy, Abruzzi) $106
From the same region as Wine #3. We couldn't help it. A white wine with this depth, complexity, and utter enjoyment does not come along often.
This was enjoyed at Finch & Fork with Pork Belly Benedict and a more perfect pairing could not be imagined.
Someone once said the white wines from Pepe were feral. We wouldn't go that far, but they do have a wild streak. This is one of the rare wines that you might not like at all while sipping by itself, but may become obsessed with once paired with the right food. We're obsessed.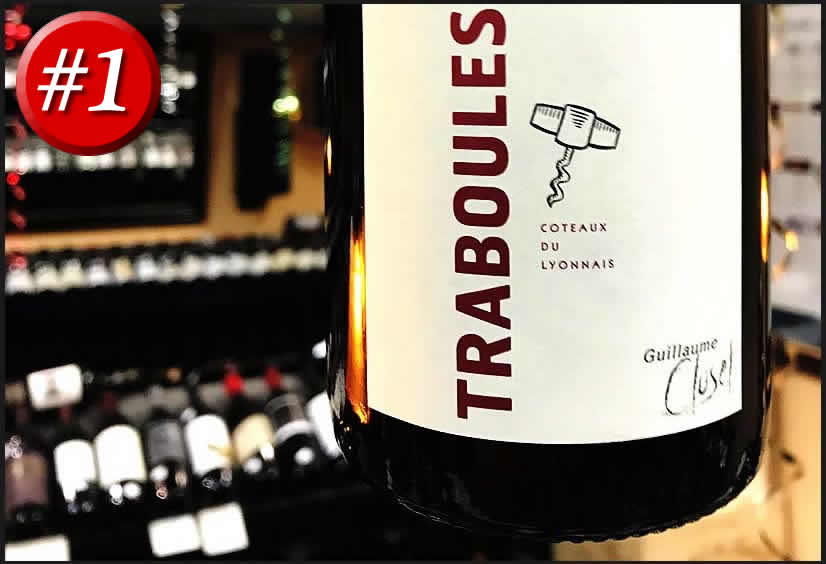 2016 Clusel-Roch 'Traboules' (France, Rhone, Coteaux du Lyonnais) $20
We made it to Number One.
There's a story here somewhere, but we'll hold off as this wine will be one of five wines poured this Saturday from 3-6pm at Renegade Wines (Gratis!).
As for the wine: This was a shocker. A lovely bright, fresh & brooden Rhone Valley wine,
except it's 100% Gamay! We were taken back. But seduced by the vivaciousness of the wine.
How quicky did it sell out the first go around? One day.
We have plenty in stock now, so stop by on Saturday between 3-6pm to have a taste of this beauty (and four others from the Top 21).
-
That about wraps it up. Salute, Happy New Year, and may you enjoy great food, wines, and friends in 2018.

Thanks you for your support,
and have a wonderful New Year!
Renegade Wines
417 Santa Barbara Street Suite A-6
Santa Barbara, CA 93101
805-568-1961
www.renegadewines.com